S2K Commerce - Products Dropdown
Actions
Daybar Expandable Series Frames are an ideal solution for commercial building applications and retrofit work on existing buildings, specifically when existing wall types are unknown or vary throughout the project.
EF-K Square Corner, 18 Ga. Expandable Jamb Kit c/w Hinges
Height: 6/8 to accept 79-1/8 door slab, 7/0 to accept 83-1/8 door slab
Width of Door Slab: Nominal: 2/8 or 3/0 Actual: 31-3/4 or 35-3/4
Expandable: from 4-1/2 to 7-7/8 
Swing: Reversible 6/8, Handed LH or RH 7/0
Kit Includes:
Jamb Set
• 18 ga. Galvanneal steel
• 3 pieces: header, hinge jamb and single strike jamb for assembly in wall openings during construction or renovation
Hinges (3 included)
• 4-1/2"x4" ball bearing commercial grade hinges
• Square corners
• Non-removable pin
• Satin Chrome 26D finish
Expandable Slide Bracket
• 16 ga. Galvanneal steel, spot welded to frame
• 3 sliders on frame jambs and two sliders on frame heads allow for smooth operation
Reinforcements
• Welded to the frame for 3 hinges and strike placement
• Strike jamb leg is prepped for 4-7/8" ANSI strike
• Closer reinforcement is 12 ga. and welded to the header
The frame has an interlocking header that attaches to the jamb legs and is fixed into place with drywall screws when the frame is installed against both sides of the wall.
The frame has two frame face dimple locations on the jamb legs and one in the centre of the header, as well as two holes to attach the header to the frame.
There are no anchors required for the EFK frame. The bottom dimple holes on each side screw to the drywall frame to ensure its stability.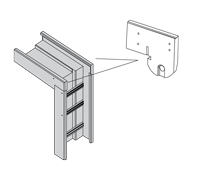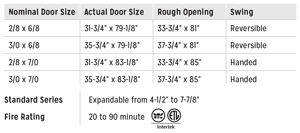 Fire rated from 45 up to 90 minutes

Primer not required
Galvanneal steel is matte grey and ready for the finish paint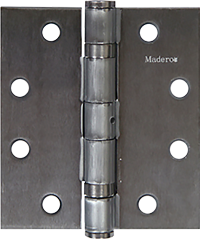 Optional Jamb Specifications
• Deadbolt prep - contact sales associate for details
• Drywall frames and welded frames 
Rough Opening
Nominal Width:
Door width plus 1-3/4"
Nominal Height:
Door height plus 1"