S2K Commerce - Products Dropdown
Actions
Retail Commercial Merchandiser
The Madero retail door program includes 20 gauge hollow metal doors for commercial buildings, outbuildings and fire rated residential applications. LS series Galvanneal steel doors are available with two core options; honeycomb core for interior use, or insulated with polystyrene or polyurethane for exterior applications and sound transmission control.
20 Ga. Lockseam Steel Door 1-3/4"
Lock seam and beveled edges mechanically interlocking seams on door edges only.
Closer Reinforcement: 14 ga. closer reinforcement, fitted to 16 ga. inverted top channel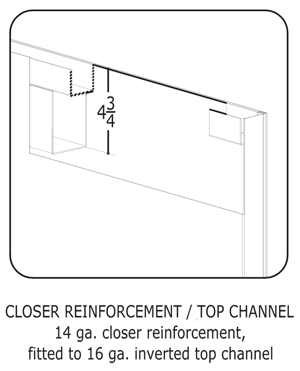 Hinge Reinforcement: 7 ga. hinge reinforcement; to accept (3) 4-1/2" hinges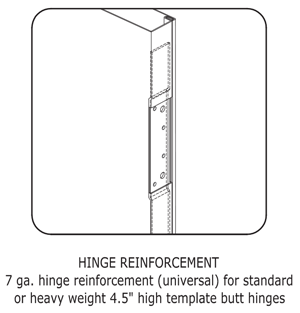 Lock Preparation: ANSI 161 lock reinforcement; 14 ga. prepared for 2-3/4" backset
Beveled to 1/8" or 2 degree bevel
Swing: Reversible 6/8, Handed LH & RH 7/0  
Nominal Size     Actual Size
2/8 x 6/8             31-3/4" x 79-1/8"
3/0 x 6/8             35-3/4" x 79-1/8"
2/8 x 7/0             31-3/4" x 83-1/8"
3/0 x 7/0             35-3/4" x 83-1/8
Note: Special order available 2/0 to 3/6 widths. 6/8 doors are reversible. 7/0 requires handing when order is placed. 
 
Core Options: 
Honeycomb core (HM) 
Usages: Interior, fire rated 
Specs: R Value 2.5, STC 32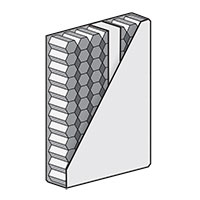 Polystyrene (HMIS) 

Usages: Interior, fire rated 
Specs: R Value 2.5, STC 32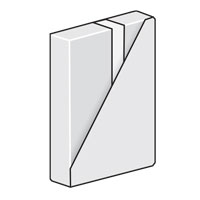 Hinge Placement:

Honeycomb filled doors are fire rated to 90 minutes with a label attached.

Primer Not Required 
Galvanneal steel is matte grey and ready for the finish paint. WHI listed door glazing kits available. Contact for more details.
What is Daybar Quality? 
Daybar quality is built on 50 years of manufacturing experience, broad fire and physical endurance certification capabilities and the best warranty program available in the industry.